5 Tips for Commuting in the Bay Area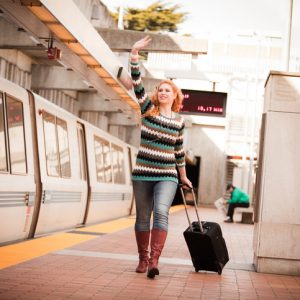 Traffic is an ever-present factor for those living in the Bay Area. This reality isn't likely to change anytime soon. In fact, over 100,000 people spend 90+ minutes commuting in the Bay Area each and every day. Plus, the rising cost of living in the Bay Area is pushing greater and greater numbers of people to move further and further away. As it turns out, when you look for homes for sale in the Bay Area, your choice of location will come with some additional lifestyle considerations. In this article, we'll explore 5 tips for navigating the increasingly tricky Bay Area commute.
Tip One- Consider Carpooling
One of the single best ways to deal with the stress and cost of the Bay Area commute is to carpool. Carpooling can save you aggravation as carpool members can take turns driving. Additionally, carpooling can also save wear and tear on your car and help you reduce your gas costs. Perhaps best of all, carpoolers can use the HOV (or high-occupancy vehicle) lanes and will lower their carbon footprint at the same time.
Tip Two- Find Out About Commuter Tax Benefits
You could have commuter tax benefits available to you. According to SF Environment, employees are allowed to receive commuter tax benefits if they average just 10 hours of work per week. Visit www.sfenvironment.com for more information.
Tip Three- The Clipper Card
The Clipper Card is definitely something for Bay Area commuters to strongly consider. You'll get convenient access to a wide range of transportation choices include the BART, the San Francisco Bay Ferry, the Santa Rosa CityBus, and more. Visit clippercard.com to learn about the all-in-one transit card. This card can make life easier for weary travelers while potentially even saving them money, so this one is definitely worth a look.
Tip Four- Bike More
The Bay Area is beautiful and has more biking paths and options than most other areas. Considering the fact that biking is both a great form of exercise and can help you save money. You owe it to yourself to consider this planet-friendly form of transportation. Even with traffic taken into consideration, homes for sale in the Bay Area are a hot commodity because it's such a bike friendly area.
Tip Five- Commute Productivity
While not every option we've discussed so far will work with every commuter, there is one option that almost everyone can use. Find a way to make your commute productive. Whether its reading a book on public transit or listening to an audio book while in your car, it's possible to learn and even enjoy your time during your commute. Instructional information is easier to find and use than ever before. Consider spending the time learning a new skill or maybe you even pick up a new language!
Ultimately, with a little strategy, there are ways to make your commute easier. The part of town in which you choose to live is, of course, an extremely important decision. California home builders are constantly expanding their offerings.